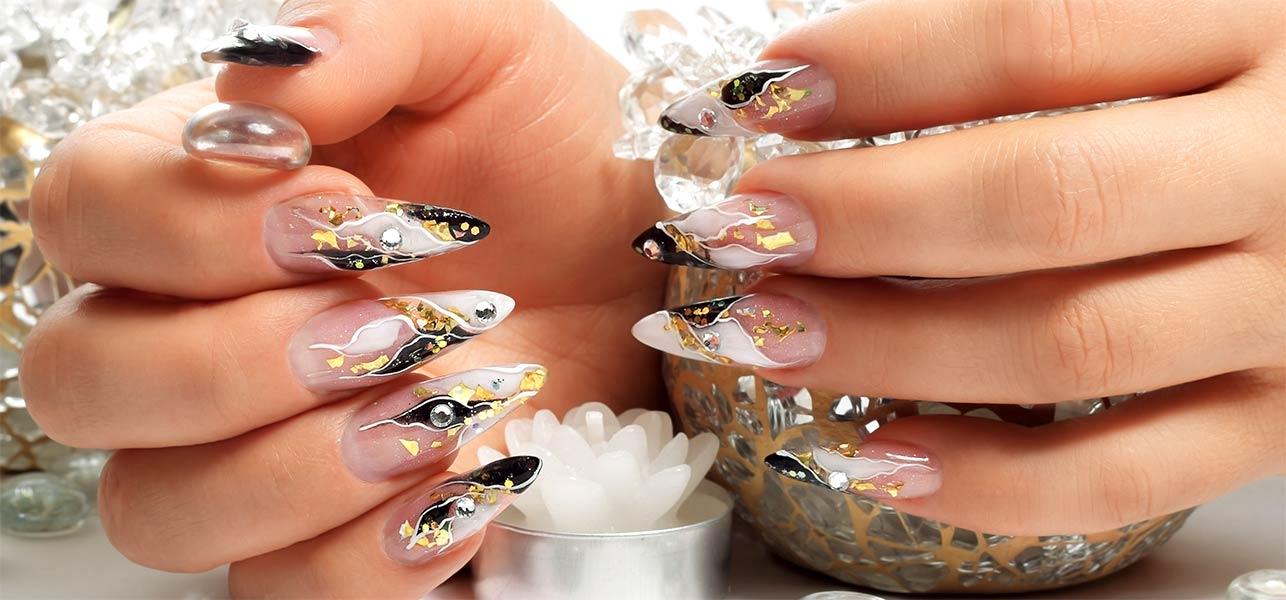 It is only fair to say that no new trends escape from the style conscious people in Delhi and the same applies for the emerging trend of nail painting and art. It is common to see women in Delhi sporting trendy designs and motifs on their nails and it's only apt that we explore further to get to know the Nail Artists and spas that are responsible for their stunning look.
This list of the Top Nail Artist in Delhi should make it easy for you to take your first steps into the exciting world of nail art.
Top Ten Nail Art Spas in Delhi:
1. Zoe Nails Art:
Manmeet Kaur, the owner and brain behind the Zoe Nails Art Studio cashed in on the trend of nail art through sheer brilliance and expertise. If you are looking for experimental style statements with bold colors and nail piercings, it's only apt that you book an appointment with Manmeet as soon as possible. Choose from a wide range of nail painting techniques and colors and get yourself the art that's hard to beat on your fingertips.
2. Strands Lounge:
This nail art spa was established in 2009 along with multiple outlets in Delhi. Strands Lounge is a name to reckon with. Specializing in a wide range of nail arts and manicure treatments, Strands lounge is the place to be for beautifying your nails. Check out their extensive portfolio or walk in with a visualized design idea of your own and watch it come to life.
3. Lure Nails:
Go to Lure Nails for any kind of nail treatments including manicures, nail enhancements, nail embellishments, air brush nail painting or hand nail painting and you are sure to be totally satisfied with the level of excellence the experts here have to offer in terms of nail art. A high end nail spa, lure nails is well worth every rupee you spend on the basis of excellence and expertise alone.
4. Rhapsody Nail Studio:
Choose from a trendy range of nail art designs and motifs or nail embellishments and extensions because at Rhapsody Nail Studio you are simply spoilt for choice. Book an appointment as soon as possible and very soon you will be making fashion statements with your hands itself.
Address: 6 A and B, GFK, DLF Place, Saket , Delhi 110017
5. Lakme Beauty Salon:
Perhaps the only Indian brand that manufactures great products for nails, The Lakme Salon in Delhi only serves to popularize the brand name further. The experts at the Lakme Salon are well equipped to provide great services for nail art and other nail treatments. Choose from a wide range of nail colors and trendy embellishments at the Lakme salon.
Address: SG-60, Galleria Market, DLF City Phase 4, Gurgaon 122022
Rating: 4/5
6. Nail Mantra:
As the name suggests nails are the mantra here and considering the levels of excellence here, the place is named so for good reasons. Walk in or book an appointment and simply choose from a wide range of designs, motifs and embellishments or communicate your preferences and ideas and they are sure to be met.
Address: J-39, Main Market, Opposite Subway Outlet, Rajouri Garden, Delhi 110027
Rating: 4.5/5
7. Scratch Nail and Makeup:
Trendy name and even trendier design sensibilities, the nail art at the Scratch Nail and Makeup Studio is all about girl power. Book an appointment as soon as possible to get yourself some nail art that is fierce and fashionable.
Address: M -72,3rd Floor, Main Market, Greater Kailash 2, Delhi 110048
Rating: 4/5
8. Nail Spa by Shivani Sharma:
This Spa by the popular nail artist Shivani Sharma is quite well known perhaps because of Shivani's nail art tips on YouTube. If you want to meet the expert in person to beautify your precious nails just follow the address below.
Address: Shop No 171, 1st Floor, Ambience Mall, Gurgaon 122001
Rating: 4.5/5
9. Nail Spa by Gurpreet:
Yet another expert in the art of nail painting and embellishing in Delhi, Gurpreet is a name to reckon with. Walk in or book an appointment and choose from an array of designs and embellishments and the experts here are sure to provide you with your money's worth.
Address: 714, Galleria Office Tower, Near Galleria Shopping Complex, DLF City Phase 4, Gurgaon 122022
Rating: 4/5
10. The Mobile Nail Lounge:
Book an appointment at the Mobile Nail Lounge for an excellent nail art tailored to your tastes and preferences. Take your pick from a wide range of nail enhancements, nail embellishments and excellent nail art designs and motifs.
Address: S-49/25, Ground Floor, DLF City Phase 3, Gurgaon 122010
Rating: 4/5
If you are looking for Best Nail Art in Delhi, you know where to go now! So, let yourself splurge a little for donning such unique and intricate designs on your nails.